Katherine Coffin has never strayed far from home which makes her elevation to the Waikato/Bay of Plenty Magic team for next year's ANZ Championship netball competition all the more special.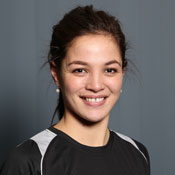 Coffin, 23, elected to remain in New Zealand when her parents, twin sister and younger brother moved to Perth six years ago and as a result has been used to making her own way in life since she was 17.
A Waikato stalwart through the age grades, her call-up as one of several newcomers to Magic's 2014 edition, however, came out of the blue.
``I thought the recruiting stage had finished, so when I got the call I was shocked but very excited,'' she said.
When her parents first made the shift across the Tasman, Coffin spent a year in Auckland with her aunt, former Silver Fern and Magic player Jenny-May Coffin but she soon returned to familiar territory.
``I had one year up there but I'm a Waikato girl so I came home pretty quickly,'' she said. ``Jenny-May is definitely `Mum' for me in New Zealand and we are very close.''
The elder Coffin is on hand in a mainly supportive role but is happy to impart her netball knowledge if asked.
``I think she just enjoys being the supportive auntie and seeing me go through it instead of being a coach, so to speak,'' Coffin said. ``It's nice to be able to find my own way even though she's gone through it.''
Coffin's recent focus has been on getting fit, an area where in the past she has relied heavily on natural ability.
``I don't know really what to expect. I just have to put in the hard yards now so I'm prepared. Next year it's all about learning off the people around me and absorbing everything,'' she said.
`Coming through the ranks, I was happy go lucky and I didn't really train because I could keep up and it wasn't like I was unfit and dying. But seeing the improvements makes me want to keep training and I'm enjoying it. Whenever there's a benefit you're always going to keep going.''
Coffin is friends with several of the newer and younger members of the team and knows most of the rest apart from Courtney Tairi. She is looking forward to the hands-on approach when the team gets together for the first time in early January.
``I think it's very exciting times ahead,'' she said. ``It is a rebuild but we do have a good mix. We've got the experience along with the youth that's coming through.
``I don't know Julie (Fitzgerald, coach) too well but what I have seen is that she has done very well in her coaching career and mixing the Australian coaching with the New Zealand style of play is going to be a good thing.''
Having played most of her career as an in-circle defender, Coffin, who stands 1.83m, was introduced to wing defence for the first time this year at under-23 level and that could well be where her future lies.
``I'm enjoying wing defence, so I'm excited to learn more from Julie and the players around me. I think that's where I'm headed because of my height,'' she said.
Coffin was never tempted to shift to Perth and with recent developments she couldn't be happier.
``I'm very close to my grandparents and I didn't want to leave them here so I thought if I stayed in New Zealand I'd get to spend maximum time with them and I've never looked back,'' she said.
``I get to skype and talk on the phone with mum and dad and my brother and sister, so it's all worked out well.''
A fulltime employee with the BNZ, Coffin will probably have to drop a couple of days next year to accommodate her netball.
``They are very, very supportive,'' she said. ``I think my manager and regional manager are more excited than I am, so I'm very lucky.''