The Waikato BOP NNL squad of 10 travelled to Wellington excited to play their first match having had 3 matches drawn due to covid cancellations.
We travelled Saturday for the Sunday match and Captain Ngawai Hawera kept up the hype leading into the match and the girls were clear about the structures they were to play.
The starting line up was GK Hannah Ridling, GD Amy Christophers, WD Micaela Ashford C Georgia Bodle WA Ngawai Hawera, GA Grace McLean, GS Summer Parekura-Kingi.
The first quarter we looked good to start keeping pace with their scoring but fell away with some unforced errors and missed shots to end the quarter 10-17. With a swap of GK & GD we found our structure and stopped ball from getting into their shooters, going down 10-14.

At halftime the girls regrouped and changes were made within the starting seven, moving Micaela Ashford to GD and Hannah Ridling to WD and switching Summer Parekura-Kingi to GA and Grace McLean back to GS.
The third quarter determination of this group showed from the outset and turnover ball was scored with some strong takes and accurate shooting.
Amy Christopher's was able to shut down ball into the their shooter and those outside the circle made the Central Manawa team work hard for every pass. We won the quarter 17-10 which brought us back to 4 goals difference.
No changes were made going into the fourth as we continued to focus on ball retention and shutting down options to their shooters. Some early errors in the quarter cost us and 4 goals went to 8 the difference. The injection of Taiana Day at GA late in the quarter had some
Impact but we finished the quarter 9-19 and the game 46-57. Great shooting stats from Grace Mclean 32/36 89% and Micaela Ashford with 3 Intercepts, 2 deflections, and 2 pick-ups for the match.
Some great learnings and reflections as we prepare this week's match against Mainland in Christchurch.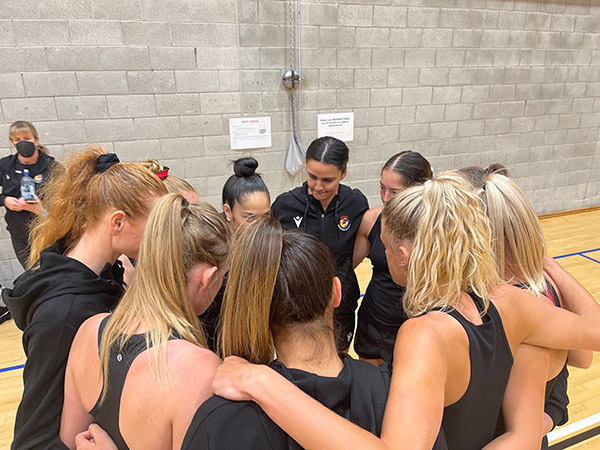 Special thanks to our 2022 team sponsors : Stratum Consultants, Loan Market, Aramex, Usolz, Whakanui Farms, CWT Citywide Trees, Precise Roofing.