At our Waikato Bay of Plenty Zone AGM held on Sunday, 27th March two of our esteemed members were presented with the following awards:
Jan Teesdale – WBOP Zone Service Award 2022
Sylvia Smith – WBOP Life Membership Award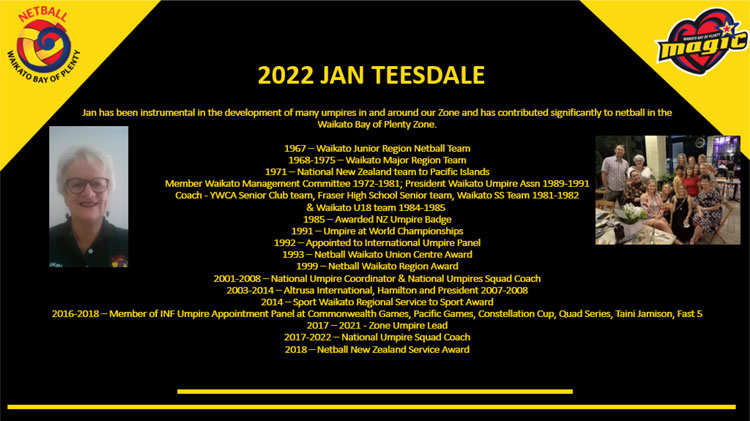 JAN TEESDALE would be one of a very few people who have been associated with and achieved at such a high level in all aspects of Netball involvement first as a player then as a coach, an administrator and an umpire. During her early years first as a player she was a key member of Waikato Representative teams for eight years and achieved selection to the New Zealand team to tour the Pacific Island in 1971.
Following on from her successful playing career Jan transferred her effort and enthusiasm to coaching at various levels within the Waikato association. She was a very well respected and successful coach at Secondary School and Open Grade club levels as well as at Waikato Age Group representative team levels. During this period, Jan also gave of her time and expertise to administration and was a member of Waikato Association Management Committees for ten years. Firstly as a Committee member and then President of the Waikato Umpires Association. It was also about this time that Jan developed a very keen interest in yet another aspect of her own Netball activity and turned her main focus to umpiring.
It is as an umpire, and more recently as an Umpire official that Jan has made her greatest contribution and achieved at the highest level. Since the time she gained her New Zealand Umpire badge in 1985 Jan's commitment and expertise saw her gain honours as a national and then international umpire. In recognition of her achievements, Jan was named 'Umpire of the Year' at Waikato Regional Sports Awards in 1992, 93 and 94 – no mean achievement given the calibre of Umpire nominees in this region.
Following on from her time as an active Umpire Jan accepted employment with Netball New Zealand from 2001 through to 2008 as National Umpire Co-ordinator and National Umpires Squad coach. During her time in this position she travelled widely and could always be seen working with Umpires at national and international events but she still managed to give of her own time to assist as a volunteer at local and regional events and special occasions.
The achievements listed in Section 3 of this submission give but an overview of her own umpiring performance and in more recent years of her contribution as an Umpire Examiner, Umpire Coach and Appointments Panel member and effective mentor for up and coming young umpires. Her most recent appointment to the International Umpire Appointments panel at the 2018 Commonwealth Games is testament to the skill and dedication Jan gives to her chosen aspect of Netball involvement but there is more about Jan Teesdale that deserves acknowledgement.
While she is worthy of recognition for her personal achievements, we here at Waikato Bay of Plenty Zone believe she is also deserves recognition for the manner in which she shares her time, her expertise and her enthusiasm with the main people she has contact with. The way in which she always relates well and is happy to offer assistance to those around her at Netball Events is much appreciated and the manner in which she is always so keen to offer encouragement and to support younger or less experienced umpires to be the best they can be, is greatly valued by all who have the opportunity to work with her.
There can be little doubt that Jan Teesdale is worthy of nomination of a Netball Waikato Bay of Plenty Zone Service award.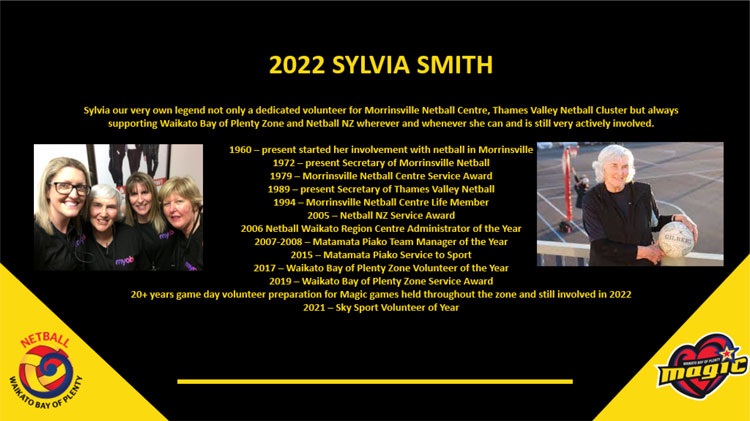 Sylvia continues to support Netball in Morrinsville and the Thames Valley Region. She works tirelessly to make sure netball is played in her home town of Morrinsville but also for the Thames Valley district. She has her finger in everything from building & maintenance; up In the tower keeping netball games to time; ordering and making sure the canteen is well stocked and oversees the running of the canteen. No one has had to take minutes, organise meetings, organise and make sure representative teams have uniforms, she leaves no stone unturned. A truly valued volunteer.
Everyone knows Sylvia and when she volunteers at her beloved Splice Construction Magic games she is the first person everyone sees as they enter the building and is the last person they see when they leave at the end of the night. She is there early in the morning to setup the stadiums, hanging and setting up signs; making sure the back of house is ready for teams, technical officials and Sky Sport to arrive. Ice cold buckets; towels, water and ice she has them all ready for when the teams arrive. This is all done with a huge smile on her face and everyone is her netball family. A true testament to all that Sylvia does voluntarily for Magic netball was to see Sky Sport acknowledge Sylvia's continued commitment to volunteering at all home games in Hamilton, Rotorua and Tauranga when she was nominated as the Sky Sport WBOP Volunteer and was recognised at the Splice Construction Magic Awards dinner by the team. A truly deserved honour.
Sylvia is not ready to move away from netball and everyone expects to see her down at the Morrinsville Netball Centre courts and over to Paeroa for the Thames Valley meetings for a good few years to come plus courtside at all our Splice Construction Magic home games.
The WBOP Zone have no hesitation in supporting Sylvia's nomination for Netball Waikato Bay of Plenty Zone Life Membership Award.