The Waikato BOP NNL team travelled to Rangiora to play their 2nd match against a highly rated Mainland team. They posed some real strength with ANZ Tactix training partners being available for the match. Our second game away and the juggle of Covid and ANZ commitments saw a changed line up for WBOP.
This week the team featured the return of mainstay players after covid of Emily Ussher and Monica Faumui who started the match and Reeghan de Bono who came on in the second quarter.

The first quarter was where Waikato BOP wanted a better start and the game start was fierce as both teams went goal for goal. Waikato coach Helena Hoult was pleased with intensity we brought to the match, finishing the first quarter 1 point ahead.
Waikato made no changes going into the 2nd with Mainland changing shooters. Waikato defence took time to adjust to their speed and quick ball into the circle. There were patches of good ball flow though the court but our ability to convert was difficult.
Sera Taei took the court for the first time at the end of the 2nd quarter but injury saw her come off just after the start of the third.
Nine goals down going into the third the Waikato team rallied to gain some ascendancy but the Mainland team continued their dominance through the third and fourth quarters. Waikato were able to put all ten travelling players on court and continued to have some highlights throughout the matches played.

Shooter Grace Mclean shot 26/28 to finish at 92.9%,, Monica Faumui took five intercepts and four deflections and Captain Ngawai Hawera taking 19/45 for a majority of the centre passes received. The final score 39/58.

We are looking forward to meeting Central Manawa again this Saturday at 10:05am at the QE2 in Tauranga and hope to have some local support to rally behind our girls.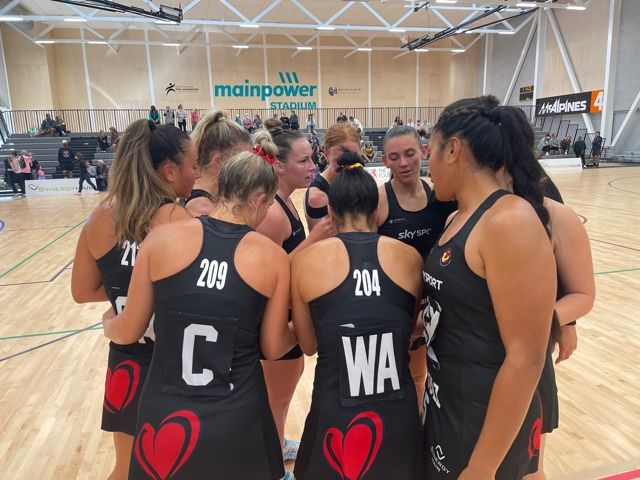 Special thanks to our 2022 team sponsors : Stratum Consultants, Loan Market, Aramex, Usolz, Whakanui Farms, CWT Citywide Trees, Precise Roofing.